Multi-Surface Coating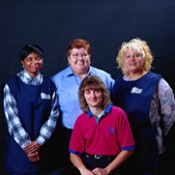 Microguard provides superior performance for the protection of non-ferrous metals, hard tile, terrazzo, concrete, and painted metal surfaces, providing protection from staining, oxidation, corrosion, and abrasion.
Tile and Grout

Concrete

Paver Bricks

Terrazzo

Natural Stone
Microguard
---
Preserver, Prolong & Protect your Surfaces & Floors
Adams and Adams is the area's only certified installer of Microguard's concrete and tile coating.
Microguard is a time tested, high-performance coating system designed to make your building surfaces look better and perform longer.
High gloss finish with improved foot traction when wet.

Prevents mold, mildew & bacteria growth.

Excellent stain & odor resistance properties.

Easier to clean & maintain using Eco-friendly cleaners.

Wall surfaces are protected from graffiti tagging.

Reduction in cleaning cost, time, labor & chemicals.

Suitable for Terrazzo, Hard Tile & Concrete flooring.

Minimizes 'dusting' & 'spalling' of concrete surfaces.

Extreme solvent & chemical resistance.

Protects & enhances Sidewalks, Pavers, Pool Decks.

Protects Stainless Steel and all other non-ferrous metals.

Our Uncompromising Solution to Lower Maintenance Costs

Guard Against Unsightly Surfaces
Office cleaning, commercial and industrial janitorial services Enfield CT, East Windsor CT, Windsor CT, South Windsor CT, Manchester CT, Bloomfield CT, East Granby CT, Granby CT, Suffield CT, Somers CT, Glastonbury CT, East Hartford CT, Agawam MA, Springfield MA, East Longmeadow MA, Longmeadow MA, Wilbraham MA, West Springfield MA, Holyoke MA, Amherst MA, Pittsfield MA, Lee MA, Lenox MA, South Hadley MA, Hadley MA, Westfield MA, Chicopee MA, East Hampton MA